You are here
Financing and Money Services (Amendment) Act, 2018 - No. 1 of 2019
Financing and Money Services (Amendment) Act, 2018
Tortola, British Virgin Islands – 1 March, 2019. The Financial Services Commission is pleased to advise that the Financing and Money Services (Amendment) Act, 2018 ("the FSMA amendment") comes into force on 1st March 2019.  The FSMA amendment includes changes in definitions within the Act, new available classes of licenses and updated application fees. Some key provisions are highlighted below and the full FSMA amendment is available on the Commission website.
Amendments to the Definitions of Financing Business and Money Services Business
Financing business
The definition of financing business has been modified to include pay day advances and consumer loans as provisions of credit. 
The restrictions on the amount or the value of the credit that may be given under financing agreements have been removed, except where providing consumer financial loans.  These consumer financial loans are confined to amounts of $5,000 to $35,000.
Money services business
The definition of money services business has been expanded (beyond money transmission) to include electronic money, mobile money, payments of money and other alternative methods of money and payment transmission and the operation of automated teller machines.
New Classes of Licences
The Act introduces different classes of licences categorised based on the following relevant types of financing and money services business:
      Class A:     transmitting money in any form, including electronic and mobile payments of money;
      Class B:     issuing, selling or redeeming money orders or traveller's cheques, cheque cashing and currency exchange;
      Class C:     engaging in financing business;
      Class D:     engaging in the business of financing lease;
      Class E:     operating Automatic Teller Machines (ATMs);
      Class F*:   international financing and lending in the peer-to-peer (P2P) FinTech market, including peer-to-business (P2B) and business-to-business (B2B) markets;
      Class G*:   other financing and money services business.
*Licenses not currently in issue. Enabling regulations will be introduced later.
Fees
The fees below are applicable, beginning 1 March, 2019 for entities licensed under the Financing and Money Services Act.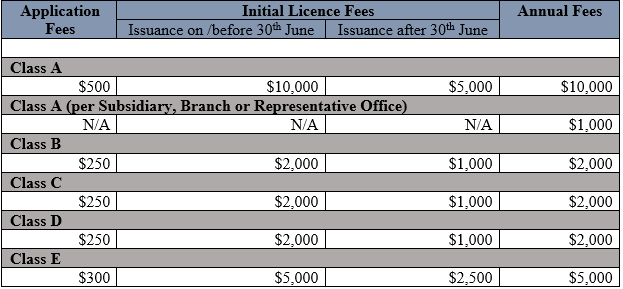 Additional Corporate Governance Provisions
The Act:
places expressed responsibility on directors, senior officers and management personnel to ensure that the licensed entity is compliant with relevant laws governing its operations; failure of which constitutes an offence, subject to a penalty of $30,000;
empowers the Commission to issue prudential guidelines; and
requires licensed entities to segregate customer assets by establishing separate accounts.
Prohibition Against Solicitation or Receipt of Money
Unlicensed entities (unless exempted under the Act) are prohibited from soliciting or receiving money from third parties with the view of engaging in money services business and financing business in or outside of the Virgin Islands.
About the Financing and Money Services Act
The Financing and Money Services Act was first enacted in 2009. Entities and persons engaged in providing money services and financing business which are captured by the provisions of the Act are required to be licensed by the Financial Services Commission.
Queries regarding the Financing and Money Services (Amendment) Act, 2018 may be directed to the Commission's Banking Unit, Sonia George (georges@bvifsc.vg) on 852-4017. 
For further information, please contact:
Corporate Communications
BVI Financial Services Commission
Pasea Estate, Tortola, British Virgin Islands
Tel:      (284) 494-4190
Fax:     (284) 494-5016
Email:  corpcomm@bvifsc.vg