You are here
BVI Financial Services Commission to Host Meet The Regulator Forum
Friday, 22 September, 2023

THE BVI FINANCIAL SERVICES COMMISSION TO HOST MEET THE REGULATOR FORUM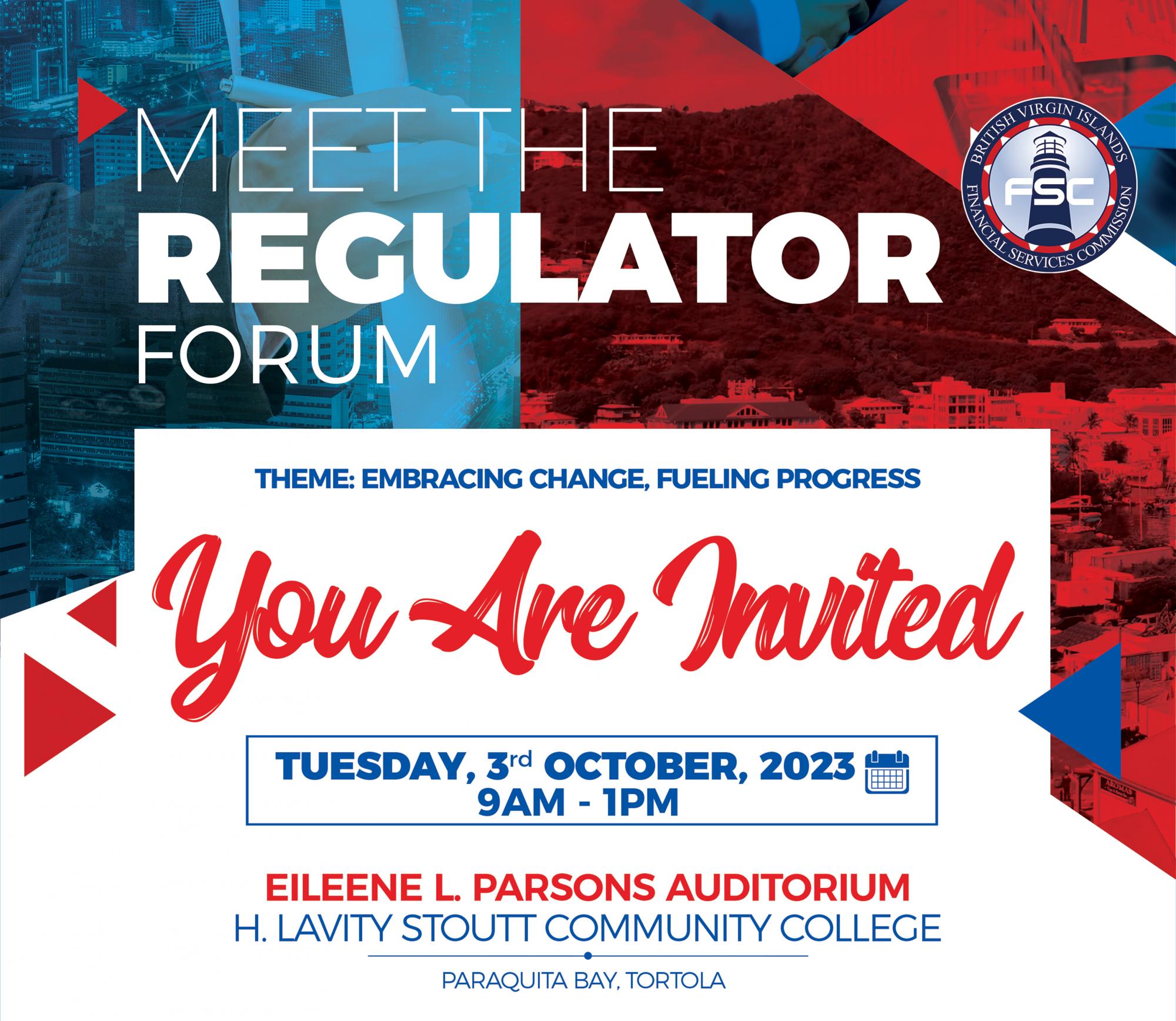 Road Town, Tortola – 22 September 2023 - Financial services industry practitioners and other stakeholders are invited to join the BVI Financial Services Commission (the Commission) for a Meet the Regulator (MTR) Forum on 3 October 2023 at the Eileen L. Parsons Auditorium H Lavity Lavity Stoutt Community College, Paraquita Bay, Tortola, Virgin Islands (British).
Under the theme – 'Embracing Change, Fueling Progress', presenters will immerse attendees in updates on trending issues and expected changes to the international and local financial services regulatory and legislative landscape.  Attendees will also have the opportunity to engage podium representatives through questions and feedback regarding industry players' appetite for improvements to the BVI's financial services product offerings and the Commission's service standards.   
CEO and Managing Director – Mr Kenneth Baker intimated the importance of MTR Forums by citing the duty of "financial services regulators to ensure that those who deal with end clients have information that allows them to manage client expectations best.  Also, with transparency as a tenet of Commission operations, once information becomes properly earmarked for public consumption, the Commission seeks to filter it to relevant sector participants."  He continued, "Financial services regulation is such these days that many factors must be considered in our mission to achieve international acquiescence; the Commission and Territory are obligated to meet high standards even whilst they aim to maintain the attractiveness of the financial services product and its congruence with professional client needs."  
Recent circumstances have unfortunately dictated a hiatus of MTR Forums; however, based on the Commission's recent temperature-taking at the industry level, it was made clear that a relaunch of the Forum is something that stakeholders have been looking forward to.
 
Industry partners are encouraged to save the date and make plans to attend and connect with the Commission and cross-sectoral colleagues at what promises to be an enlightening and stimulating event. 
The registration portal for the in-person MTR Forum attendance is open; registrants are also encouraged to input advance questions, if any, after registering.  
For more information regarding the upcoming Meet the Regulator Forum, please email events@bvifsc.vg. 
To keep up with Commission publications and events, join the mailing list by sending a brief message to externalrelations@bvifsc.vg.
About Us

The BVI Financial Services Commission is the autonomous regulatory agency responsible for regulating and supervising financial services business conducted in and from within the Territory.
Questions concerning this Release may be directed to:
EXTERNAL RELATIONS UNIT
BVI Financial Services Commission
18 Pasea Estate Road, Tortola VG1110
British Virgin Islands
Tel: (284) 494-4190
Fax: (284) 494-5016 
Email: externalrelations@bvifsc.vg 
Posting Date:
Friday, 22 September, 2023