You are here
BVI FSC Newsletter: October 2023
The BVI Financial Services Industry Must be Attentive to Money Laundering Risks and Systemic Effects – Previously Hosted Webinar Explained 2022 Risk Assessment Report Findings
Since the conclusion of the 2020 Sectoral Money Laundering Risk Assessments, the Territory's financial services environment was again placed under granulated review to consider changes in Money Laundering (ML) threats and vulnerabilities that have occurred. In June 2023, the BVI Financial Services Commission (the Commission) and partnering agency BVI Financial Investigation Agency (FIA) published the 2022 Virgin Islands ML Risk Assessment Report, demonstrating the Virgin Islands' continued commitment to identifying, assessing, and mitigating ML risks in keeping with the Financial Action Task Force's requirements.  
The 2022 Risk Assessment analysed the Virgin Islands' domestic and foreign ML threats at a national level, and vulnerabilities within the financial services Designated Non-Financial Businesses and Professions (DNFBPs) sectors and the Territory's law enforcement and competent authorities that may allow threats to materialise. Several elements were considered in arriving at the level of risk exposure within the different sectors, including types of customers, geographic, product and service risks and the susceptibility of abuse within each sector. 
On 27 July 2023, the Commission hosted a live webinar to elaborate on the findings within the Report. Deputy Director, AML/CFT Unit at the Commission - Ms Alva McCall facilitated the well-attended session, whilst Deputy Managing Director, Regulation Mr Glenford Malone, was on hand to provide reinforcement and support. Ms McCall noted that 'the identified risks within each sector are potential business disrupters that can seriously impact licensed entities, their customers, and the general economy.  Therefore, licensees are advised to understand the types of money laundering risks their sectors are susceptible to and know how their businesses, products, and services can be used to facilitate Money Laundering.' Companies were further advised to review the Report and implement adequate controls to protect their firms and minimise exposure to the different types of risks. 
Relatedly, in a recent 'FSC Direct' interview, Ms McCall informed representatives from various sectors of the importance of addressing the vulnerabilities identified within the Report. Industry practitioners are encouraged to visit the AML/CFT page on the Commission website for all recent resources concerning the 2022 ML Risk Assessment Report and to send inquiries to aml@bvifsc.vg.
REGISTRY'S CORNER 
The Commission Updates its Authorised Signatories List for the Registry of Corporate Affairs
1. The Commission has issued an update to advise financial services industry participants that with effect from 15 September 2023, the following persons are authorised to sign certificates and other documents issued by the Registry of Corporate Affairs based on the BVI Business Companies Act, 2004, the Limited Partnership Act, 2017, the Trade Marks Act, 2013 and the Registration of United Kingdom Patents Act.  Authorised Commission officers' names are reflected below and can be found on our website here:
Myrna P. Herbert - Registrar

Lydia Cline- George – Deputy Registrar

Brenda Smith – Sr. Assistant Registrar

Debra Christopher – Assistant Registrar

Marvin Green – Assistant Registrar

Myron Stevens – Assistant Registrar

Deann Sylvester – Assistant Registrar

Perline George – Assistant Registrar

Isha Hodge – Assistant Registrar, Trademarks & Patents
2. The Commission has reiterated that it is not the function of Client Services or the Registry of Corporate Affairs to provide legal advice or interpretation of legislation.  While the Commission may adopt such measures as may be necessary to appropriately inform, direct, or refer the public to its functions and matters relating to or impacted by financial services legislation, these should never be interpreted as amounting to legal advice, nor should they be mistaken as appropriate substitutes for obtaining independent legal advice. 
3. Financial services industry participants are informed that a list of directors will not be included in special certificates issued by the Registrar of Corporate Affairs, pursuant to section 235A of the BVI Business Companies Act.  Section 118B(4)(b) of the BVI Business Companies Act provides that a list of directors shall be available upon request. 
The list of directors may be requested through VIRRGIN in the 'Request for Certifications' function (R811). The associated fee is US$75.00.
 
Questions regarding the above should be directed to the Registry of Corporate Affairs at support@bvifsc.vg.
 
BVI Financial Services Commission Meet The Regulator Forum – 3rd October 2023
Even a tropical storm watch (RE: Tropical Storm Philippe) did not stop the almost 300 industry practitioners and associated personnel who turned up on Tuesday, 3rd October 2023, for the Commission's Meet the Regulator (MTR) Forum at the Eileene L. Parsons Auditorium, H Lavity Stoutt Community College, Paraquita Bay, Tortola.
Under the theme 'Embracing Change, Fuelling Progress', the following presenters immersed attendees in updates on trending issues and expected changes to the international and local financial services regulatory and legislative landscape:  
BVIBC (Amendment) Act, 2022 – Application of the Transitional Provisions and Related Matters - Ms Dian Fahie deCastro, Deputy Director, Legal Division

Filing Financial Returns - Mr Glenford Malone, Deputy Managing Director, Regulation

Legislative Reforms in the Pipeline - Ms Allene Gumbs, Deputy Director, Policy Development & Research

VASP - Processes and Procedures - Mrs Kishelle Blaize-Cameron,

 Deputy Director, Specialised Supervision
Attendees were also treated to a roundtable discussion dedicated to international cooperation issues.  The roundtable was moderated by Mr Brodrick Penn, Deputy Managing Director/Operations, and featured input by the following legal and regulatory executives: Mr Stephen Grayson, Director, Legal at the Commission, Ms LaToya James, Director of the International Tax Authority, and Mr Errol George, Director of the Financial Investigation Agency. 
During the highly anticipated Managing Director's Regulatory and Registry Update, MD/CEO Mr Kenneth Baker presented on issues surrounding ongoing restructuring at the Commission, BOSS/Economic Substance, the VIRRGIN system, the CFAFT Mutual Evaluation Report, PARBO and other matters.
Mr Baker subsequently thanked attendees, stating, "I would like to extend sincere gratitude to the financial services industry, government agencies, media representatives and other partners who contributed to the success of this MTR. Meaningful and useful discussions were had, which provided clarity on recently enacted legislation to attendees, as well as valuable feedback for the improvement of current legislation (and others in the pipeline). Though the Commission continues to engage with our licensees and industry partners outside of this Forum, we will continue to honour our commitment to keep the industry abreast of legislative and regulatory developments via future MTRs."

Copies of the various presentation slides detailing areas of discussion are now available on the Commission's website.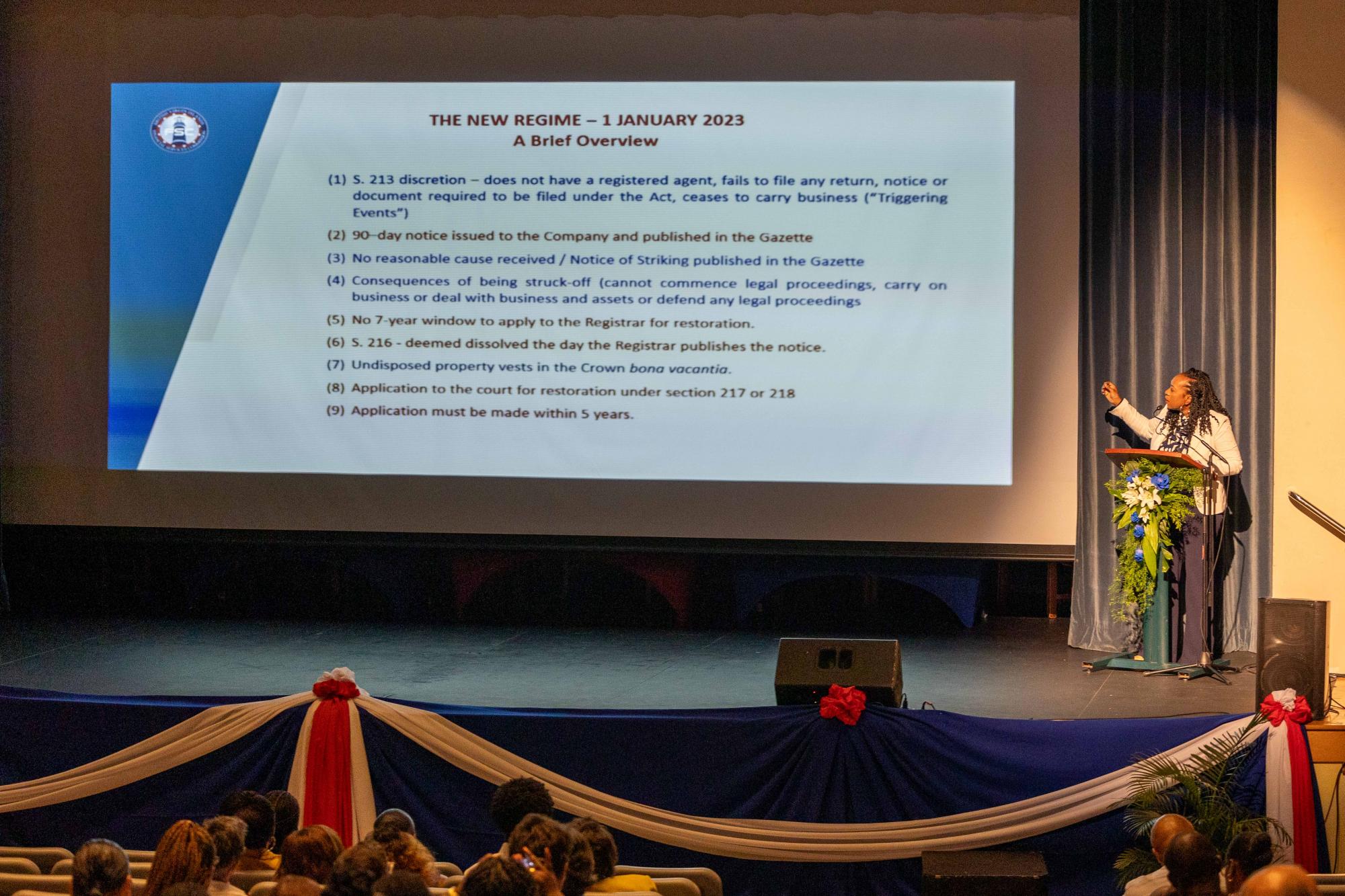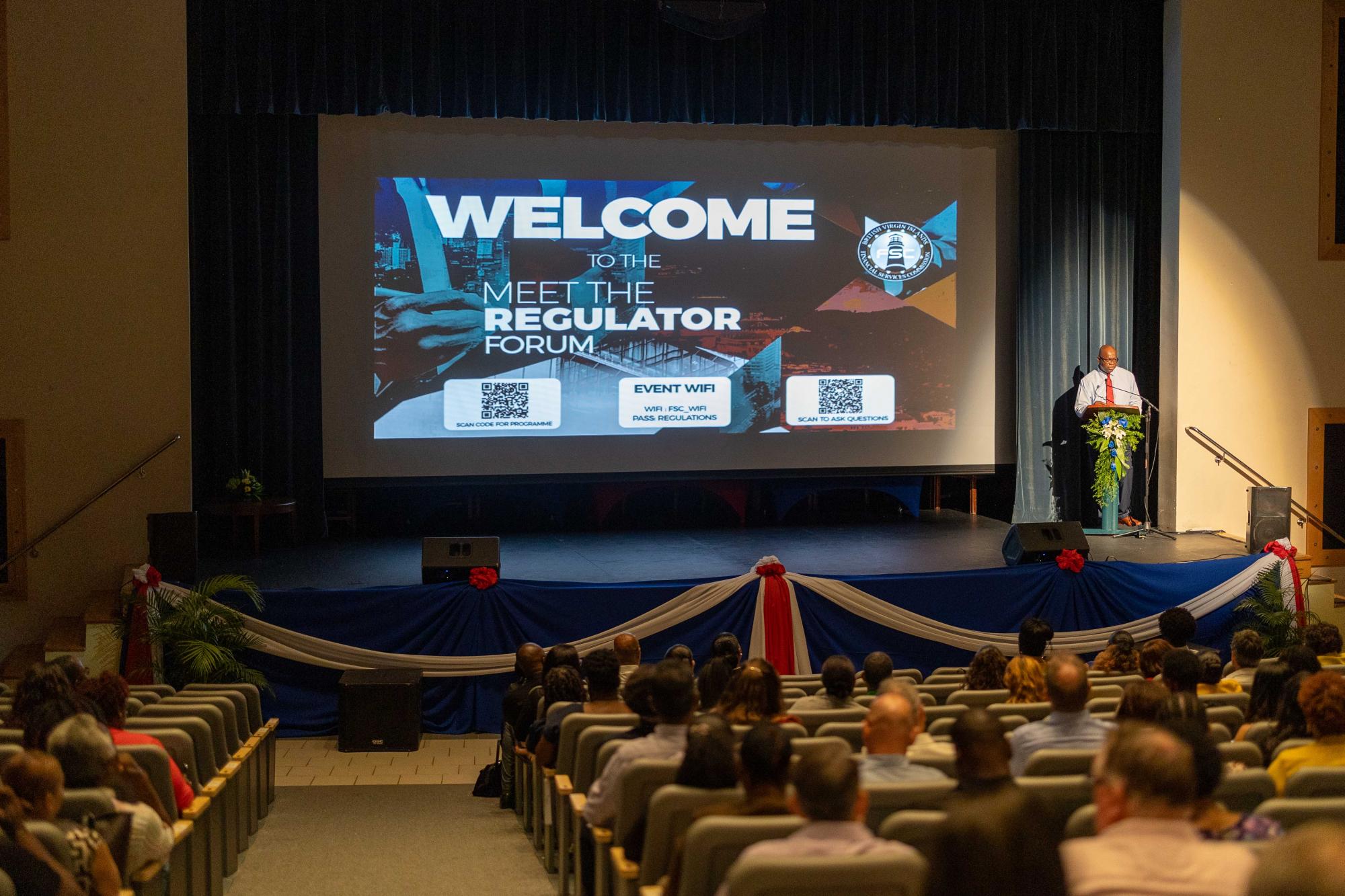 BVI FSC Executive Visit To Hong Kong Planned for 9-13 October 2023
A BVI Financial Services Commission executive delegation is set to travel to Hong Kong and hold meetings between Monday, the 9th and Friday, the 13th of October 2023, with stakeholders operating in that jurisdiction. The team has organised meetings to capture valuable insights on the ever-evolving business landscape, opportunities and key factors influencing the uptake of BVI Companies, compliance concerns and other perspectives on changes to financial services legislation.
The delegation, which will be led by Managing Director/CEO, Mr Kenneth Baker, will also consist of the Director, Policy Development and External Relations, Mr Cherno Jallow, KC, and Director of the Registry of Corporate Affairs, Mrs. Myrna Herbert; They will be joined by Director (Asia Representative) BVI Financial Services Commission (HK) Limited, Mr. Shane Baptiste.
Please direct any inquiries concerning the upcoming Commission visit to Hong Kong to hkservice@bvifsc.vg or externalrelations@bvifsc.vg.
MONEY MATTERS BVI – Wills & Estate Planning Forum
On 13 September 2023 the Commission's financial literacy education function – MONEY MATTERS BVI (MMBVI) hosted its fourth Annual Wills & Estate Planning Forum at the BVI Financial Services Commission Training Centre in Pasea Estate. The free event was physically attended by almost 100 persons and to date, has received over 9,700 views from MMBVI Facebook patrons.  The Forum theme was 'Death and Debt'.
The Forum featured the following panellists who each possess extensive knowledge in the field of wills and estate planning:
Partner and Head of Property & Business, O'Neal Webster – Ms Jenelle Archer

Partner, McW Todman & Co – Ms Nelcia St. Jean

Managing Partner, Sabals Law – Ms Anthea L. Smith

Managing Director, Harbour Chambers BVI – Mr David Abednego
The moderator, Rhonda Hodge-Smith, directed the panellists as they traversed issues such as the following and interacted with physical and virtual attendees:
The importance of making a will

Rights of decedent's creditors, particularly banks

Role of the executors and administrators in the settling of estate debt

Gifting of money, property, and residue before and after death

The role of the courts in intestate estates
One panellist raised the salient point, "If you don't plan for what will happen to your assets, the laws in the BVI will..., and if you want that to happen, then [go ahead and fold your] arms and do nothing. But if [you] prepare, for example, a will, then [you] are in control. If you don't have anything in writing, you are not in control!" 
MONEY MATTERS BVI is the financial literacy education program at the Commission. Its work encompasses the production of lessons on BVI consumer rights and responsibilities as relates to saving, investing, protecting, spending, and borrowing money.  The objective is to ensure that residents obtain basic financial knowledge, skills, and attitudes that will assist them in reaching their long- and short-term financial goals.
For more details on the Wills and Estate Planning Forum and the work of MONEY MATTERS BVI, visit the MMBVI Facebook page @moneymattersbvi or email finlit@bvifsc.vg.
 
Recent Changes To Financial Services Regulatory Legislation
This summary relates to the following:
Company Management Act, 1990 (CMA)
Financing and Money Services Act, 2009 (FMSA)
Banks and Trust Companies Act, 1990 (BTCA) 
Securities and Investments Business Act, 2010 (SIBA)

Insurance Act, 2008 (IA)
Together, regulatory legislation
The suite of financial services regulatory legislation each received revisions during the 2023 legislative amendment cycle to address the definitions of controlling interest and significant interest, along with other notable matters outlined below.
Controlling Interest
Owing to 2023 legislative amendments to the CMA, FMSA, SIBA, and IA, the definition of controlling interest in these statutes now corresponds to clearly lay out that a reference to the controlling interest of a licensee means an ownership or interest in a licensee or any holding company of a  licensee, which entitles a person to exert influence over a licensee or any holding company of the licensee. A person with any of the following characteristics  is deemed to have a controlling interest:
has more than 50% voting rights of the licensee;

has a significant interest not necessarily amounting to 50% of the voting rights, but such interest gives the person a considerable advantage in the voting rights of the licensee;

has influence over the activities of a licensee, though they do not have a significant interest in the licensee or

gives instructions to a director or senior officer of the licensee, which is usually acted upon by such director or senior officer.
While SIBA received an introduction to the term – controlling interest, the CMA, FMSA, and IA amendments represented a broadening of the definition since prior representations did not deal with, among other things, the idea of entitlement to exert influence over a licensee or any of its holding companies.
The BTCA retained a comparable definition of controlling interest which was introduced in 2022.
Significant Interest
The position regarding the disposal and acquisition of significant interest, controlling interest, and related activities is retained (IA - Section 21, SIBA – Section 11, FMSA – Section 14, CMA – Section 13, BTCA – Section 14), such that prior written approval from the Commission must be procured before effecting such actions.
Other Updates
The CMA was also amended in 2023 to capture the formation of partnerships and continuation of partnerships to the Virgin Islands under the definition of 'company management'.   Further, the acts of providing and arranging to provide directors, partners, officers, and similar positions for VI companies, partnerships or companies or partnerships incorporated, formed or registered outside the VI, as well as arranging for nominee shareholders similar structures, will each be caught as activities which constitute the provision of 'company management' services. 
Enhancements were also made to the CMA as relates to applications for licence, such that before issuing a licence, the Commission must satisfy itself that once a licence is issued, the applicant will have capital resources of not less than the prescribed minimum or such greater capital resources as prescribed by the Commission, that the applicant will be in compliance with the CMA, the Regulatory Codes and any applicable practice directions. 
IMPORTANT NOTE:  This summary should be read in conjunction with the substantive legislation, copies of which can be downloaded from the Commission's website - www.bvifsc.vg
PUBLIC STATEMENTS 
During the third quarter of 2023, the Commission issued the following Public Statements with a view toward protecting persons and businesses who may have been solicited by purported BVI licensed financial services providers: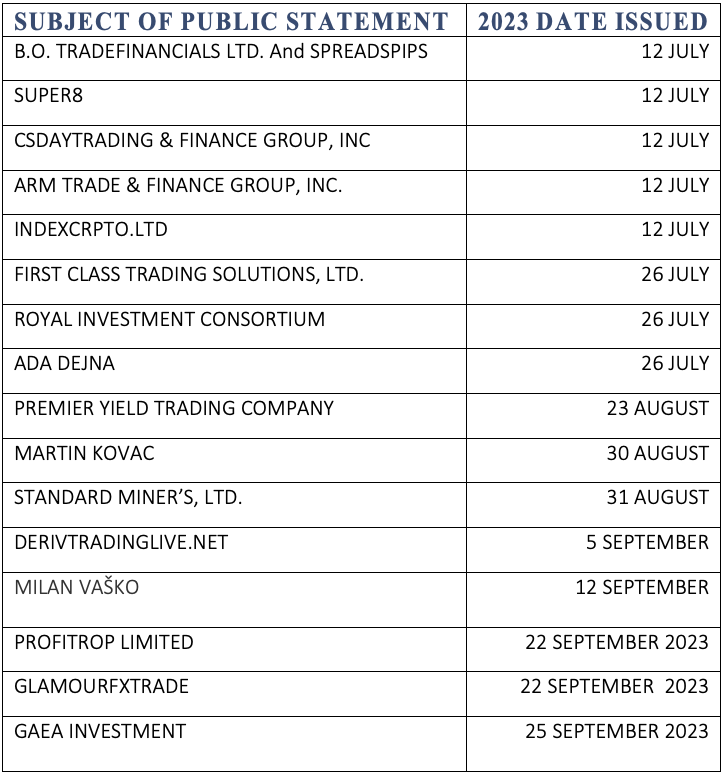 All Commission-issued Public Statements can be viewed here.
BVI FSC Holiday and Closure Dates
The public should note the following upcoming public holidays in Hong Kong and BVI, during which times the respective offices will be closed for business:
BVI:  16 October 2023 – Heroes and Foreparents Day

HONG KONG:  23 October 2023 – Chung Yeung Festival
A complete list of holidays and closures can be accessed via the Commission's website – www.bvifsc.vg.